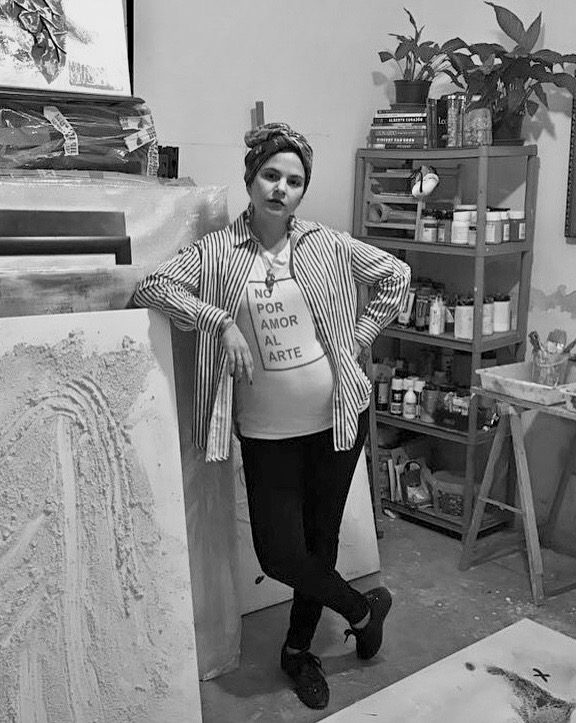 About the Artist
Anahí Rodríguez (Madrid, 1986) is a Spanish painter, photographer and designer graduated in Fine Arts BA and in Visual Arts MA by Madrid's Complutense University.
She studied Design at Parsons School in New York and at Politecnico di Milano.
She has been exhibiting her work internationally during the last decade in Madrid, New York, London, Milan, Aarhus… cities where she has also lived and have a enormous influence on her work.
She currently lives and works between Milan and Madrid.
Tell us about your career as an artist. You studied abroad, what did you get out of your academic studies?
I got to become a multidisciplinary artist and I acquired a sincere and respectful global perspective on my own work as well as other people's work. Plus, traveling and living in various countries has definetely enriched me both personally and as an artist.
How would you define your style, your quest?
There are no mistakes, only opportunities. My paintings reflect an abstract technique and aesthetics that I have developed over the years with the use of materials such as jute, marble powder, sawdust or pigments and a very strong passion for colour. Colour as synonym of life, of being passionate and being naive, of eagerness, optimism and unlimited creation. This is the aim of my research right now.
What inspires you?
I get  daily inspiration by diversity of colours, materials, textures, compositions, details and emotions. Art History plays a decisive role as an influencers never ending story too.
To be an artpreneur (and the gift of motherhood!) can be so challeging and inspiring but extraordinarily rewarding.
Solo Exhibitions
2020
Fundación Pons Madrid, Spain
2019
Espacio Oculto Madrid, Spain
2018
Only YOU Boutique Madrid, Spain
2017
Ushuaïa Tower Ibiza, Spain
B.Fab Bergamo, Italy
2013
Ramses & Beyond Arting Madrid, Spain
Taste Gallery Madrid, Spain
2011 
Biondetta Art Gallery Madrid, Spain
Agora Spazio Modernissimo Bergamo, Italy
2010 
Espacio Trivieca Madrid, Spain
Vestas Lem, Denmark
Agora Spazio Polaresco Bergamo, Italy
Espacio Caná Madrid, Spain
2009 
Galería Arte Veintiuno Madrid, Spain
Showroom Estudio Alioli Madrid, Spain
Group Exhibitions
2017
Galleria Colleoni Bergamo, Italy
2015
UBS Bank Madrid, Spain
2014
Oxford House London, UK
Windsor Collage Exhibition Windsor, UK
Espacio Gallery London, UK
2013
Vibe Gallery London, UK
2012
Casa de Vacas Cultural Centre Madrid – Spain
Godsbanen Cultural Centre Kulturanet, Aarhus – Denmark
Cultural Centre 8 de Marzo Madrid – Spain
Museo del Traje – C Arte C Madrid – Spain
2011 
Madrone Studios San Francisco, USA
Space Ateller Seattle, USA
Galería INAEM Madrid, Spain
Muestrarte Tabacalera Madrid, Spain
Brooklyn Art Gallery New York, USA
Galería Guerrero Madrid, Spain
2010 
Artekne Contemporary Art Fair Maratea, Italy
Torre Blanca de Albarracín Teruel, Spain
Osuna Culture House Seville, Spain
Feel free to give me a shout.
Fill out the form on the side, I will reply ASAP.